BILINGUAL PRE-SCHOOL IN FRANCE
Our pre-school curriculum at Open Sky International France
At Open Sky International France, the pre-school curriculum  is based on a mix of traditional teaching methods and independent activities that help children learn important skills through collaboration, communication and self-reliance.
Teaching in our pre-school is half in French and half in English, whereas most other bilingual schools tend to favour the use of one language more than the other. As a result, our pupils leave their Open Sky International pre-school speaking both languages.
The Open Sky International pre-school curriculum teaches children skills and understanding in language and literacy. We focus on developing children's receptive skills of listening, reading and observing, and increasingly their productive skills of speaking and writing.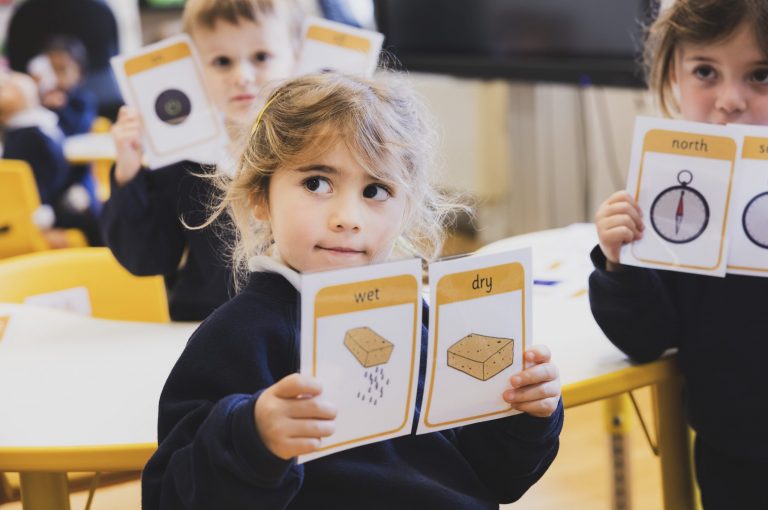 In addition to academic excellence, our school prepares children for openness to the constantly changing world: from the age of three years, we develop children's awareness of themselves and their environment and talk to them about the different cultures of the world. We believe that children can enrich their peers' understanding by telling them about their own cultures and our teachers help them learn to understand each other. Our pre-school classroom is a place for our children to exchange and share their lives and experiences.
Our commitment to academic excellence means that our pupils are one or two years ahead of all public and private schools. At the age of four, children can read and write in English and at five, they can read and write in French, while in France reading and writing are learned in CP,  at around the age of six. From a very early age, Open Sky International has introduced the concept of addition in mathematics. At the end of the maternelle, the children master both languages orally and have a very good written foundation.
PRE-SCHOOL CURRICULUM PER CLASS
In our pre-school, Open Sky International France offers three differents classes adapted to the age and the level of your child.
Calendar
The Open Sky International Bilingual School school year started on September 5 and will end on June 29, 2024.
Holidays match those of the Paris public school system.
Schedule
Meals
The square
Uniforms
How does my child join Open Sky International France pre-school?​
We are now welcoming families who would like to enrol their son or daughter with us. For enrolment in our pre-school, children should be aged from two to six years old. We encourage parents to apply through the admission system as early as possible to avoid disappointment.
Although we aim consistently for educational excellence, we do not put academic barriers in the way of pupils who would like to join our pre-school. Instead we admit pupils who have a wide range of backgrounds and abilities and we accept children who speak English, French or neither. When pupils arrive, their language level is assessed by our teachers.