THE SECONDARY SCHOOL AT OPEN SKY INTERNATIONAL
Located in France, Open Sky International's secondary school offers a rigorous bilingual program. We use the latest technologies and efficient working methods, which allow our students to acquire the expected knowledge in all subjects and in both languages.
Teaching in our secondary school is half in French, half in English, whereas most bilingual schools tend to favour one language (either French or English) more than the other. Pupils leaving Open Sky International's secondary school master both languages, both written and spoken.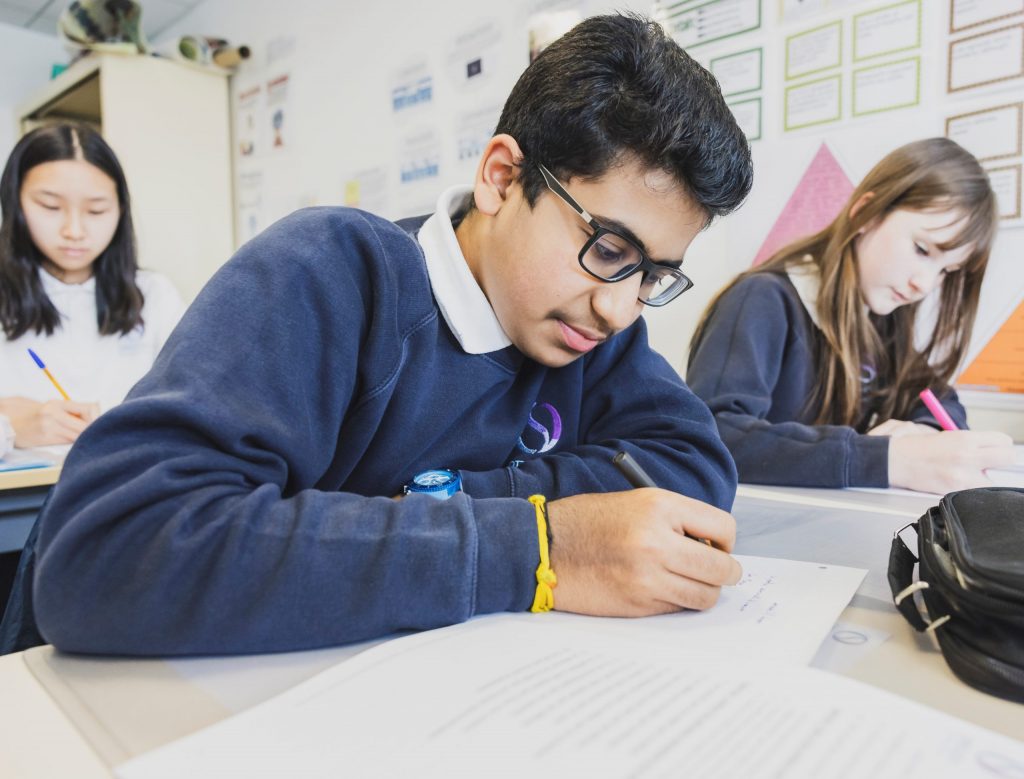 Half of our courses are in English and half in French
English literature and language, mathematics and the three sciences (physics, chemistry, biology) are taught in English, and follow generally the ethos and the requirements of the English National Curriculum. However, in mathematics and science, around a quarter to a third of the curriculum is also taught in French to help pupils to learn to master these subjects perfectly in both languages.
In the secondary school, we continue to follow the same timetable structure as our primary school for French-medium subjects, and this means that French language, history, geography, art and sport are taught in French. In these subjects, pupils follow our own curriculum, specifically developed by Open Sky International, in order to help us to achieve our objective of academic excellence.
A mix of the best of the French and English systems
The first cycle of the Sixième, Cinquième and Quatrième classes, which is equivalent to the English Key Stage 3 (KS3), allows our pupils to acquire a solid foundation for academic success and prepare themselves for the demands of (I)GCSE and sixth-form studies. During these three years, pupils develop the subject-specific knowledge and skills that they will need later to succeed in their external examinations.
The second cycle of two years, when pupils are in their Troisième and Seconde classes, is equivalent to the English Key Stage 4 (KS4). At the end of this cycle, all of our pupils will take GCSE or IGCSE in a range of subjects, including French, English literature, English language, mathematics, the three sciences, Spanish and Business. In this way, our French and international pupils will benefit from having internationally recognised qualifications.
Learning areas and activities at Open Sky International's secondary school